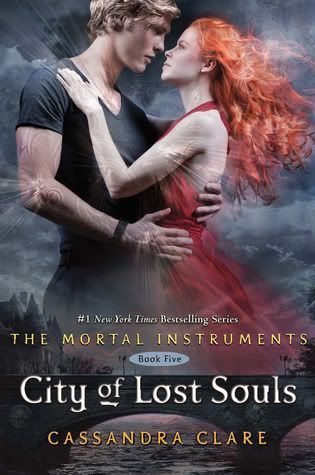 So every year I wait with bated breath for the next installment of this series that I love do dearly. Cassie Clare did not disappoint with City Of Lost Souls.
We catch up with our beloved shadow hunters, werewolves, warlocks, and vamps -( by gosh this book has it all) after the kidnapping of Jace and so now we are set on the trail of the dark and evil Sebastian in order to save Jace and break the demon bound bond between them, which as it turns out is no easy task.
We see angels raised, lives in danger and Clary trying to save her man who is totally under Sebastian's influence and ready to take over the world...
The characters have grown so much no Longer the teenage Scooby gang but warriors fighting for what they love. This book is much more darker, grittier and sexually charged then the others... Emotions run high and you can't help get caught up...I cried for Clary, I cried for Magnes and craved the humor Simon brought.
The love hate relationship I had with Sebastian was epic he's the perfect villain... Cassie Clare is an absolute talent, everything she writes is the work of an creative and colorful imagination. I want more! I need more!
What will happen with Alec and Magnes???? Will Iz just get it over with and tell Simon she loves him! What about the killer pre teen vampire! So many questions and yet we have to wait another year lol... Back to counting days!