Spring is here! April is National Poetry month and CandleWick Publishing were kind enough to send me some great children's titles in celebration of this wonderful event.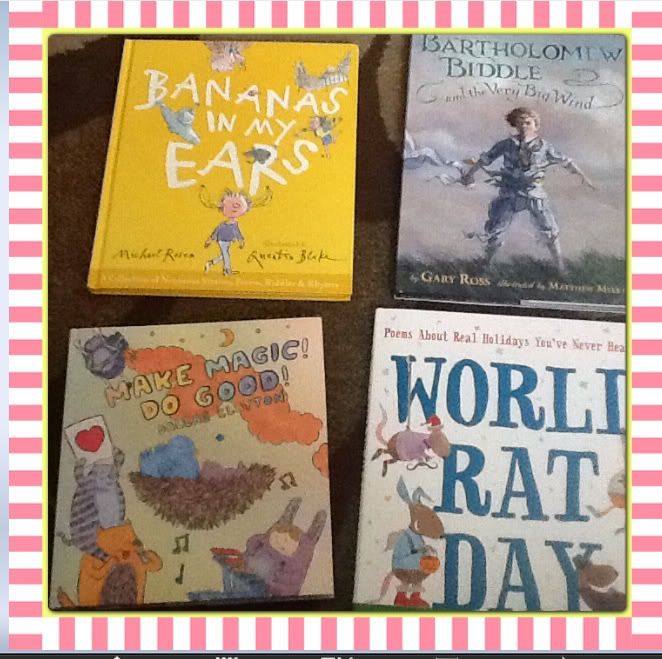 About the books (courtesy of Candlewick)
Make Magic! Do Good!
by Dallas Clayton Hardcover • $17.99 • 112 pages •
A boy with a beard tries to stay six forever. A frightful monster lives a million miles away, but is equally scared of you. A magic rope hangs from the sky, next to a sign saying "Give me a try." In this brightly illustrated selection of playful, often provocative poems, ideas run the gamut from stopping your lightning-fast running to help others keep up, imagining a store that sells colors never before made, or admitting you'll never know all the answers (and sleeping better at night). Following the runaway success of his self-published debut, Dallas Clayton's quirky, captivating collection makes it clear that this rising talent, whose work has evoked comparisons to Dr. Seuss, Maurice Sendak, and Shel Silverstein, exudes a spirit and style all his own.
World Rat Day
Poems About Real Holidays You've Never Heard Of
by J. Patrick Lewis, illustrated by Anna Raff
Hardcover • $15.99 • 36 pages • 5-8 years
Nobody should ever forget Ewe on Ohio Sheep Day (July 14). No mata mata how hard they may try on World Turtle Day (May 23). If you've never heard of Dragon Appreciation Day, International Cephalopod Awareness Day, or Yell "Fudge!" at the Cobras in North America Day, it's not because they don't exist, it's simply that they needed someone to spread the word. Luckily, the fantastically zany poems of J. Patrick Lewis and Anna Raff's equally hilarious illustrations have memorialized these holidays forever. So get out your calendars -- from Happy Mew Year for Cats Day to Chocolate-Covered Anything Day, World Rat Day (April 4) calls for a year-round celebration.
Bananas in my Ears
A Collection of Nonsense Stories, Poems, Riddles & Rhymes
by Michael Rosen, illustrated by Quentin Blake
Hardcover • $15.99 • 96 pages • 4 yrs and up
From the chaos of breakfast to the calm of bedtime, this whimsical collection, pairing two former British Laureates, is full of delightful moments. Explore the pleasures of acting silly and the pains of feeling ill, the camaraderie of siblings and strange goings-on at the beach. . . . All this and a trip on a flying bed, too!
Bartholomew Biddle and the Very Big Wind
by Gary Ross, illustrated by Matthew Myers • 96 pages • 6-10 years
Bartholomew Biddle's life has always been pretty ordinary, but when a huge wind blows past his window one night, he feels the call of adventure — and he can't resist the urge to grab his bedsheet and catch a ride. Soon he's soaring far above his little town, heading wherever the wind takes him! After spending time on an island full of pleasure-seeking pirates and at a prep school that boasts a hundred shades of gray, Bart finds himself in a mysterious cove where the wind doesn't blow. Stuck, Bart is forced to face the fact that his flying days might be over. Will he ever be home again?
Our opinion:
We loved these books! They are entertaining, whimsical and different each book holds something for everybody. The art work is amazingly beautiful my kids where truly impressed.
Our personal favorite of the four books was: World Rat Day by J Patrick Lewis & Anna Raff - It really tickled my kids to hear through poems of seemingly wacky holidays that REALLY happen which they had never heard of..
This was a wonderful introduction to poetry that held the kids interest, had them very animated and excited about reading...what a happy mom I am! :)