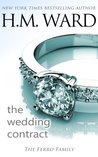 The Wedding Contract
by
H.M. Ward
My rating:
5 of 5 stars
So much Ferro all in one book! Amazeballs..
Skylar is a woman who is trying to make it on her own. A hugely talented photographer in her own right. She was running a successful business up until Nick Ferro moves into the opposite store front with the exact same business.
Having no idea what his game is or why he wants to destroy her and drive her out of business she vows to fight. Being an oops baby that her mother looks down at and resents their is no way she can give up and go home.
Nick has the Ferro hard as hell don't mess with me mask that all these males process. He has to make his business work even if it means ruining Sky. If he doesn't its going to cost him in a value hes not willing to pay.
Nick is a combination of all Ferro men from crazy mean to so sweet it should be a sin.
One Wedding and two photographers who both need to win.
The antics that go on in this story are hilarious, and at times crazy embarrassing and totally jaw dropping! I would of been far more unhinged then Sky that's for sure. I loved her fighting spirit to keep him on his toes
I adored the Peter Pan element and the strive for a fairy tale ending I found it so romantic.
H.M Ward is simply amazing - her writing is one of a kind and some how she made Nick a mixture of all our favorite Ferro elements! I felt Nick started as Sean (some what mean and distant) went to Jon (funny and prankster) and ended with Peter (a total blow your socks off romantic)
I love that Nick had the power and integrity to walk away from all the meddling, deceitful ways of the Ferro Fortune.
WIN!
View all my reviews